A century after hosting the Games, Paris will once again be the host city for the Olympic and Paralympic Games in 2024. These Games will bring together hundreds of thousands of athletes, spectators and television crews in the capital for a few weeks during which the filming activity may be impacted.
Which streets in Paris will be closed during the Olympic Games? For how long? What are the alternative solutions for filming in the Paris Region and elsewhere in the country?
Film France's team is here to help you make sure that film and sport can coexist! We will regularly update this page to help you plan your production. Do not hesitate to contact us if you have any questions.
Paris during the 2024 Olympics and Paralympics Games
The 2024 Summer Olympic Games will be held from Friday, July 26, 2024 to Sunday, August 11, 2024, a little over three weeks of competition.
The 35 competition venues are located within a 10km radius of the Olympic Village. The Games will take place in several places in and around Paris on 15 communes of Yvelines, Hauts-de-Seine, Seine-et-Marne and Seine-Saint-Denis. Some competitions will also take place in other French regions, soccer in Bordeaux, Nantes, Lyon, Saint-Etienne, Nice and Marseille, sailing in Marseille and surfing on the site of Teahupo'o in Tahiti.
Calendar and authorizations
There will be 4 main periods in 2024 for filming near the Olympic sites in Paris: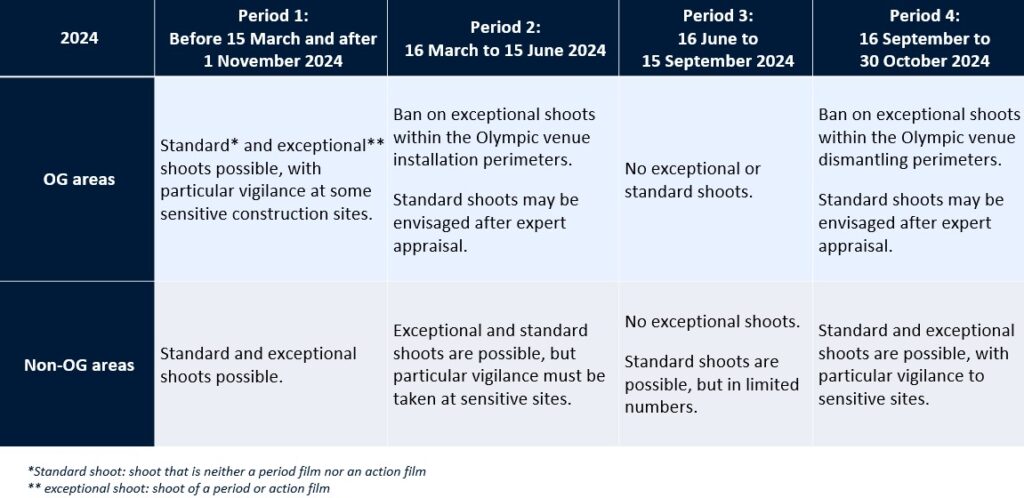 From March 16 to June 15 (period of assembly of the sites): standard filming can take place; exceptional filming will be limited
From June 16 to September 15 (just before and during the competition): there will be no filming within the security perimeter of the Olympic sites ; in non-OG areas, Standard shoots are possible, but in limited numbers
From September 16 to October 30 (dismantling period): standard filming can take place; exceptional filming will be limited
Before and after these periods, there will be no particular restrictions, but vigilance on the requests for filming near sensitive sites:
Priority will be given to the Olympic Games in the communes of Seine-Saint-Denis (Olympic village in Saint-Denis and Saint-Ouen in particular), and they will be difficult to access for filming from March to October.
Municipalities in other departments, such as Versailles, will continue to issue authorizations, taking into account the requested perimeter and dates.
French studios are gearing up in the wake of 2024
France has a wide range of studios that can accommodate your productions during the Olympic Games, including the recreation of Parisian sets. The Paris Region offer includes about twenty studios of all sizes, adapted to all kind of projects.
Since 2020, France has launched different investment plans to support the growth and creation of both physical and digital studios. New developments include additional sound stages, backlots, water tanks or virtual sets while giving priority to green production.
Film France's locations database allows you to find a studio to host your productions.
Filming Paris outside Paris
During the few weeks when certain areas of Paris are closed, it will be possible to recreate Paris elsewhere in the Paris Region and in other French cities such as Amiens, Bordeaux, La Rochelle, Lille, Lyon, Marseille, Montpellier, Nice, Reims, Rennes or Toulon.
You can find different Parisian atmospheres: from Haussmannian Paris to "postcard" Paris (Parisian streets, cafés, squares, markets, private mansions), from cultural and institutional Paris (theaters, museums, schools and universities, courts) to the business district, from the gardens of Paris to the banks of the Seine. Film Paris Region has already identified 18 locations throughout the Paris Region, some of which offer new perspectives on Paris with the Eiffel Tower in the background.
Film France and the local Film Commissions can assist you in your research. Get in touch with the team !
For journalists
In order to allow them to capture the atmosphere of the Olympic Games, teams of less than 5 people accredited to the Media Center will be able to film in the streets, parks, banks and markets of Paris.
For teams of more than 5 people, and for other locations in Paris, a mandatory request for authorization must be made to the City of Paris' Cinema Mission.